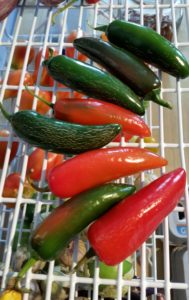 I love the Jalafuego jalapeno peppers.  These hot peppers grow from 4 to 6 inches long and are chubbier than most jalapenos.
Did you ever buy jalapenos from the store or grow them and some are hot and some are not?  With this variety you don't have to worry – they are always HOT!  According to Botanical Interest's website which is where I bought these seeds from, the Scoville heat level is 4,000 to 6,000 for this pepper which is on the high side for jalapenos.  Wilbur Scoville (a pharmacologist) came up with the numbers, the following highlights some peppers and there heat level.
Habenero    100,000 – 300,000 (extremely hot)
Cayenne       30,000  –   50,000 (very hot)
Jalapeno         2,500  –     5,000 (hot)
Poblano          1,000  –      1,500 (medium)
Anaheim            500  –     1,000  (medium)
Bell Pepper             0    –         0  (not hot)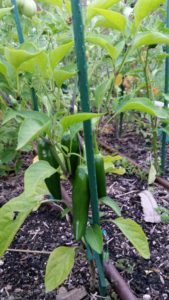 Also it is suggested that the pepper is the hottest when it turns from green to red.  You should still be prepared and wear plastic gloves even when the peppers are green.
Now the seed packet recommends spacing them 24 inches apart, but I planted my pepper plants about 12 inches apart and they are doing great.  I would recommend anywhere between 12 and 24 inches apart.

Give these peppers a try next year.  If you need more seed ideas for hot peppers, click on it!