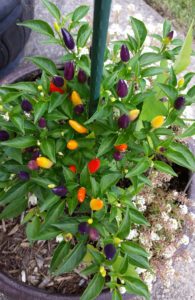 Wow these peppers are hot and colorful!  As for high heat, NuMex Twilight peppers are similar to cayenne peppers or VERY HOT!  The colors are so unique because the peppers mature from purple to yellow to orange to red.  While most peppers start out green, the only thing green on this plant is the leaves.  At any point in time, you will see all the colors on the plant.  Another cool feature is that the peppers grow upright.
As for size, this plant is great for a container because it grows up to only 2 feet tall.   The peppers on this plant are typically under 2 inches long.
Bottom line is that this plant is ornamental and edible!
Oh by the way, I purchased the seeds from Sandia Seed Company.  If you need other pepper ideas, take a look at the Jalafuego Jalapeno Peppers.