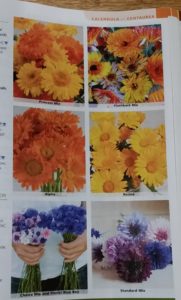 While there are lots of flower choices from Johnny's Selected Seeds Catalog, the following caught my eye. . .
Dara is a flower that has lacy umbels in shades of pink, purple or white. Dara is an Ammi flower which is also known as a False Queen Anne's Lace. I can just envision it swaying in a gentle breeze!
If you like bright orange and yellow flowers, check out the calendula, marigold, nasturtium and sunflower options. I really like the Marigold Gem Series.  If pink is your favorite color, then see the Johnny choices for celosia, cosmos and zinnias.
If your preference is flowers with delicate colors, then check out the snapdragon, stock, statice, larkspur and lisanthus options.
If you have some room to plant flower mixes, then check out the following options from Johnny:
Bee Feed Mix
Beneficial Insect Attractant Mix
Butterly & Hummingbird Mix
Shade Mix
Northern Lights Mix
Xeriscape Mix from Eastern U.S.
Johnny has other interesting choices and a comparison chart that lists key information for plant height, zone hardiness, light preference, etc.
If you missed the posts on vegetable, herb and fruit ideas from Johnny, then just click on it.  Also, I recently reviewed the flower choices from the Baker Creek Catalog.