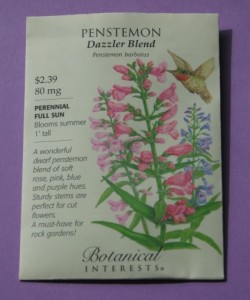 I've been growing a lot of vegetables from seed but have not done a whole lot with flower seeds.  Well this is the year!  I decided to grow a perennial flower called Penstemon.  People and hummingbirds love this flower!  It comes in all sizes but I am growing the dwarf version from Botanical Interests.  It grows to 1 foot tall and wide and blooms in the summer.  This variety is called Dazzler Blend and includes soft colors of rose, pink, blue and purple.  Just so you know the seeds are not color coded.
I picked this flower because it is drought tolerant once it is established.  Also it can withstand an average amount of moisture.  It prefers full sun.   There are two locations that I think would be perfect for this flower.  I have a garden bed in the back yard that does not have any soaker hoses so it tends to be more dry and a garden bed along the asphalt driveway on the sunny side of our house which gets very hot.
If you want some other choices of size and color, Botanical Interests has a few more choices:
Firecracker is bright red, can grow up to 3 feet tall and blooms late Spring to early Fall.
Palmer's is pale pink, can grow up to 5 feet tall and blooms late
Spring to early Fall.
Rocky Mountain is blue, can grow up to 3 feet tall and blooms early Summer.
I checked out a few more seed companies but none has as many choices.
Since these seeds take 14 to 21 days to germinate, I just planted my seeds indoors so they get a head start. Hopefully I will have some pretty flower pictures this summer.
If you want to see some real pictures of penstemon flowers that I found on Pinterest, take a look at my board called Others-Flowers.