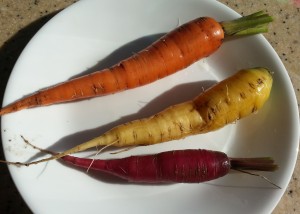 In the carrot family, we have some vegetable and herb choices.  As for vegetables, there is celery, celeriac, carrot, fennel, parsnip, root parsley.  The herbs that are a member of this family include dill, cilantro, coriander, chervil, parsley and lovage.  The herbs in this family are annuals except for lovage.   Just in case you want to know – the formal name of the carrot family is Umbelliferae.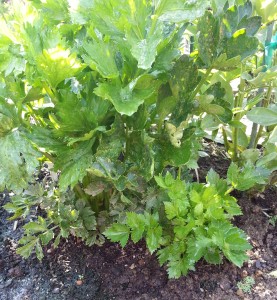 For different members of the carrot family, different parts of the plant are eaten.  For example, the stems and leaves  for celery and the herbs are eaten, the bulbs are eaten for fennel and celeriac and the roots of carrots, parsnip and root celery are eaten.
Many of the plants in this family like the cooler weather.  Some take forever to grow (over 100 days) like celery, celeriac and parsnip.  The plants in this family are often used as companion plants because the flowers attract the good bugs  that go after the bad bugs on neighboring plants.   The scent of the herb members of this family is said to confuse the bad bugs so they can't find the plants that they like to munch on.  The plants in the family are fairly low maintenance but they do benefit from consistent moisture and mulch.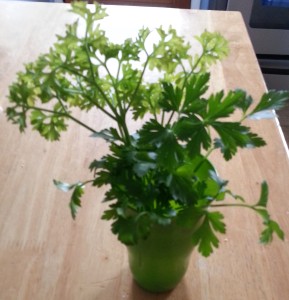 Out of the vegetables in this family, I have grown celery and carrots with success.  I started some parsnip under cover in late Summer, we will see how it survived the winter.  If it didn't I will just replant it in the Spring.  I am going to try fennel again this year.  I made the mistake of moving the fennel plants last year and they were not happy with me!  I am going to try celeriac this year.
If you do a search for "veggie families" in crazyforgardening.com, you can learn about other vegetable families.