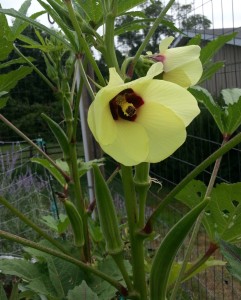 I sowed my okra seeds about a month before the last frost inside the house. You can get them started indoors like I did or sow them directly outside in early June.  Okra definitely likes warm weather so I transplanted the seedlings in late May under cover. The okra plants did well as you can see.
These plants are very hardy. They like full sun, some water and appreciate some balanced organic plant food about once a month. Okra plants can be forgiving even if you skimp on the water and the plant food.
The depth of the seeds should be 3/4 inch  below the soil line.  I typically space the plants about one foot apart. This year I planted two okra plants in a potato bag. They did great there.  In other years, I planted the okra in one of my raised beds. One thing to keep in mind is that you need to plant them somewhere so you can extract the thick roots in the Fall. In my garden, I would not plant them in the two whiskey half barrels because the barrels are just tall enough that it would be hard to get the okra plants out.
These plants can reach up to 8 feet tall – yikes!  As of right now, my tallest plant is 7 ½ feet tall!  Don't worry they are sturdy plants so you shouldn't have to stake them.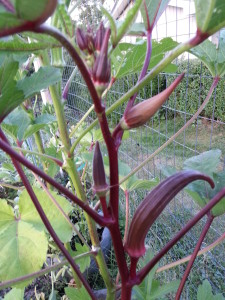 If you recall, I am growing two varieties: the Clemson Spineless #80 from Ferry-Morse and Burgundy Okra from Burpee.  I tried planting two green (Clemson) and two burgundy but I ended up with 3 green plants and one burgundy – oh well!
Now there are some bad bugs that may invade your okra such as stink bugs and Japanese beetles so be aware.  I have never had problems with bugs and this plant.
We will be addressing harvesting and storing okra soon.