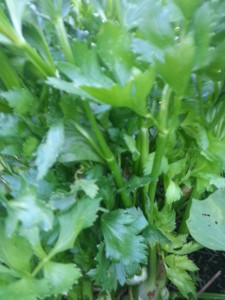 Celery is very slow to grow from seed.  It can take between 10 and 25 days to germinate and 100 and 120 days to mature.  It needs to be started indoors about 3 to 4 months before the last frost.   Since these seeds take so long to germinate, I would suggest using a seed heat mat.
Another option is to grow some from scraps.  Next time you buy some organic celery, cut about 3 inches from the base and stick it in water.   I usually start my celery in February. I usually grow two or three plants. Remember you got to keep changing the water and give it light by the window or under a grow light.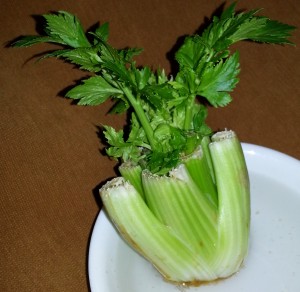 The picture to the right is what it looks like after 3 weeks.    Once it starts growing in the middle, it is time to plant it in a pot to grow indoors until after the last frost – then you can plant it outside.  If you can cover the plant to protect it from frost, you can plant it outside earlier – approximately one month before the last frost.
When I am growing celery, I just make sure it gets enough water and use a balanced plant food.   As for spacing, the plants should be spaced about 12 inches apart.  Since this plant takes a while to mature, it is a good plant to inter crop with some fast maturing vegetable plants like lettuce.  Last year I grew celery until early December.
Don't forget that celery is in the carrot family!