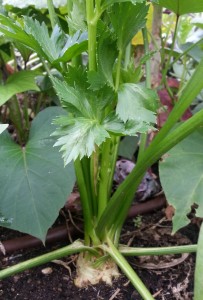 Celeriac is also known as celery root – don't get confused because it is the same plant!   You should give your celeriac seeds a head start by growing them inside about 3 months before your last Spring frost.  You can move the seedlings to the garden about 3 weeks before the last Spring Frost if you harden off the plants and plant them under a row cover.  When I harden off my plants for a Spring planting, I set up the hoop tunnel in advance and then put the plants under the hoop tunnel for a few hours the first day and then keep increasing the amount of time by an hour or two each day until I can plant them outside in about 2 weeks.  If you don't have hoop tunnels, you can always wait until a week or two after the last Spring frost to transplant the seedlings.  Since celeriac takes between 100 and 120 days to mature, you need to give it a head start indoors.  You could stagger two plantings one before the last Spring frost and one after so you have a longer growing season plus celeriac can tolerate a light frost.  You need to time the planting for your growing area.
Celeriac is in the same veggie family as celery and carrots.  While celeriac is usually grown for its root, you can use the green stems and leaves. We will talk about harvesting and eating the celeriac in my next post.
While I found celeriac to be pretty easy to grow and low maintenance, here are some growing tips: 1)  Celeriac likes it moist – so consistent watering is important.  2)  Grow a taller plant nearby to help keep the soil from drying out or use straw.  Last year I grew my celeriac plants next to my brussels sprouts which were good companions.  This year I grew them under my tomatillo plants with good results too.  3)  Once you get the warm weather of summer, you can take the hoop tunnel off.   Keep it handy because you may need it for the first Fall frost.   4)  This plant likes rich soil so you can use compost, fish fertilizer or balanced organic plant food.