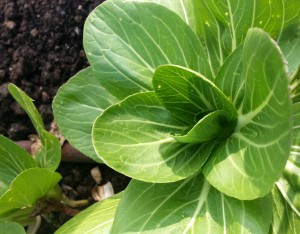 In the Asian green category, I am lumping Chinese cabbage and bok choy (also called pak choi) together. While there are other Asian greens such as tatsoi and mustard, we will talk about them separately because they have some different characteristics. If you don't like cabbage, give Chinese cabbage a try. Chinese cabbage and bok choy have mild flavors.
You should sow each seed 1/4″ deep.  If you just want loose leaves, I would space the seed between 3″ and 6 " apart.  If you want heads, then you should space the seeds about 6" to 10" for bok choy and 12" to 15" for Chinese cabbage.
These Asian greens are cool season veggies. I typically sow the seeds outdoors in the early spring under cover about 2 months before the last spring frost and again about 1 ½ to 2 months before the first fall frost.
I keep these plants under cover because the bugs like the leaves of these plants. A little nibble here and a little nibble there and before you know it, the leaves are filled with tiny pin holes! Trust me and cover them as soon as you sow the seeds. When I plant the these Asian veggies in the spring, I use my hoop tunnels with a heavier fabric and then when it starts getting warmer and sunny, I use a summer weight fabric. Then I do the opposite when I plant in the summer for the fall/winter harvest.  I start with the summer weight fabric and switch to the heavier fabric.
Sometimes I grow the loose leaves of bok choy in the summer under cover but it grows best overall in the cooler weather.