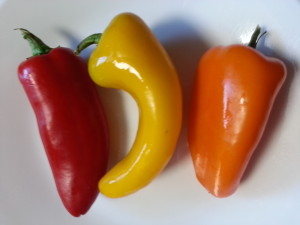 In addition to hot peppers, I like to grow sweet peppers.   Sweet peppers are great for grilling, stuffing, pickling and snacking. I prefer to grow sweeter and smaller peppers so we talk about those first and then some bell peppers
I like to grow some long slender Marconi peppers for my Italian dishes. Last year I started growing the Golden Marconi from Botanical Interests which is quite yummy. Burpee sells the Thunderbolt which is a large red Marconi. Territorial Seed Company sells two Italian pepper options called Gatherer's Gold and a red version called Italian Sweet. Another Marconi-type is the Costa Rican Sweet Hybrid from Burpee. High Mowing Seeds offers Lively Italian Yellow and Orange Peppers, the Stocky Red Roaster and another yellow called Xanthi. In the past, I grew Sweet Banana peppers which are golden and a very good addition to Italian dishes. Burpee sells the Sweet Banana and Johnny's Selected Seeds calls their version the Goddess.
You can find peppers that originated from around the world too. Shishito peppers come from Japan. You can find Shishito peppers seeds from High Mowing and Johnny's sells a variety called Mellow Star. There is an Eastern European frying pepper called Antohi Romanian and Round of Hungary from Johnny's. Belcanto is a "kapia" type pepper from the Adriatic.
Another favorite for me are the smaller 3" peppers in yellow, orange and red which are sweet and look great in salads. I started growing them last year after buying an assorted bag of them at the grocery store. The closest seeds that I could find are the Lunchbox Snack Peppers from Johnny's which come in yellow, orange and red. Also they sell the Lunchbox Pepper mix which has equal amount of each. How cool is that! It would be perfect if they color coded the seeds so you could grow a couple plants of each. Burpee offers the Tangerine Dream and Lemon Dream. Now if you want the same effect but a little larger pepper, Johnny's sells these three varieties that grow to 4": Lipstick (red), Aura (golden) and Glow (Orange).
If you want a small pepper to stuff or for a kabob, you need to check out the red and yellow Sweet Cherry Blend from Botanical Interests. The seed packet has seeds for both types of colored peppers and they are color coded.
Did you know that paprika comes from a pepper? Here are some options if you want to dry your own paprika: Territorial and High Mowing sells Feher Ozon Paprika/ Territorial also sells Alma Paprika.
Now if you like the full sized bell pepper types, you got lots of cool color options. Bell peppers come in purple, yellow, green, red, and orange. Botanical Interests, High Mowing, Johnny's and Territorial sell these colors. Two unusual bell peppers that I found are sold by Johnny's: Bianca which is ivory colored and Sweet Chocolate which is chocolate brown. High Mowing also sells the Sweet Chocolate. Imagine the cool veggie tray with theses colors. There are also color options with baby bell peppers too. Check out Territorial and High Mowing Seeds for these cuties.
If you are looking for an edible and ornamental sweet pepper, check out the Sweet Sunshine Pepper from Territorial. Instead of growing down, these sweet orange and yellow peppers grow up.
If you missed my seed ideas for hot peppers, all you have to do is click on it.