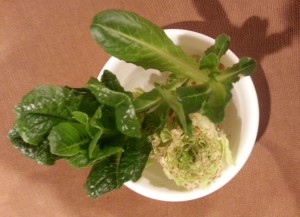 Romaine lettuce is a must have for your home garden.  It is the main ingredient in caesar salad and is good in any kind of salad or just grilled.   If you Google the origination of Romaine lettuce, it is said to come from the Greek Island of Cos.
Romaine has thick upright leaves which are very crisp.  Depending on the variety you select, you can have romaine lettuce with green, red and speckled leaves.  Also, romaine lettuce can form upright heads that can reach 24 inches tall.  I am growing Baby Romaine from Livingston Seed Company which grows to 8 inches high and matures in 55 days and and Parris Island Cos from Botanical Interest which grows to 12 inches high and matures in 68 days.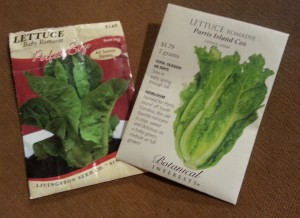 You can harvest the baby leaves when they are about 4 inches by removing the outer leaves which is why I am planting the Baby Romaine.   Not sure if the Baby Romaine will still grow because the seeds are a few years old.  If they don't germinate, I can always just grow more of the Parris Island Cos and harvest the baby leaves.
Also,  you can wait to remove the entire plant or you can cut the stem with a sharp knife while it is outdoors and watch for it to grow back.    I am thinking about growing some of the Parris Island Cos to maturity and removing the entire plant so I can grill it.   Also, if you pull the whole romaine plant or purchase it from a grocery store, you can also  cut the base and put it in water and it will regrow from the middle.  See  the top picture for the three plants that I have started.  After it grows about 4 inches, you can plant it in the ground.   I haven't gotten to that stage yet but will provide an update.
What I like about romaine lettuce is that you can It can be sown from early spring through fall.  It can be sown directly in the garden about 4 weeks before the last frost of spring or 8 weeks before if under cover.  You may have trouble starting the seeds outdoors in the middle of summer so you can either start them indoors and then transplant them early in the evening when it is cooler.