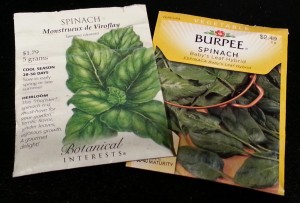 First of all, I think Spinach is hard to grow.  Last year, I started growing Monstrueux de Viroflay from Botanical Interests and had some success in the Spring.  The plant is considered monstrous because it can grow to 18″ tall and 24″ in diameter.  The leaves can get up to 10″ long.  To be honest, I did not wait that long to eat the spinach!   I picked it when it was a few inches long.  I am going to try and plant more this year and wait until the plants mature.  This type of spinach has deep green leaves that are very tender!
I also grew Baby's Leaf Hybrid from Burpee last Spring.   This plant is ready to be picked for salads in 30 days.  The above two types are good for Spring and Fall plantings.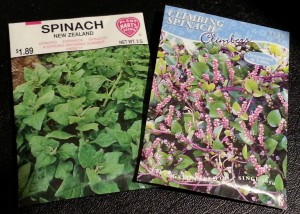 As for the summer heat, I am trying two spinach alternatives:  New Zealand from Hart's Seeds and Climbing Spinach from Livingston Seed Co.  New Zealand spinach in not a true spinach but it sure looks like it .  The plant grows to 12″ tall and should be spaced 6″ apart.  As you cut the old leaves, new leaves will develop.
Climbing Spinach can grow up to 10 feet tall so it needs a trellis.  This one should be started indoors about 8 weeks before the last Spring frost and can take up to 15 days to germinate.  It has green leaves and burgundy vines and buds.   You can't go wrong with this plant since it is ornamental and edible!