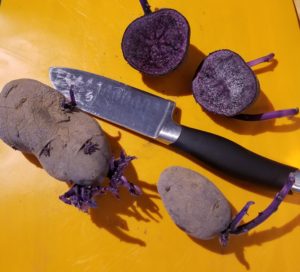 It's been a while since I've grown Purple Majesty potatoes.  I think it has been since Landreth Seeds went out of business.  Anyway, I saw this year that Peaceful Valley is selling them via their online website called Grow Organic.  Of course I didn't buy just Purple Majesty, I bought a few other seed potatoes which we will chat about soon.  What I like about Peaceful Valley is that I can buy just one pound of each variety for $3.99 / lb.
I like Purple Majesty because of the following:  1)  The skin, flesh, the plant and flower is purple – beautiful, 2) it tastes yummy which is so important, 3) it is a good choice for baking or frying, 4) it matures in 80+ days, 5) it is a good producer and 6)  I've been told that it is a great antioxidant source!
Previously I also grew All Blue but I am not this year.  Check out the link because you might want to grow it.
If you need help with planting and growing seed potatoes, just check out the link.