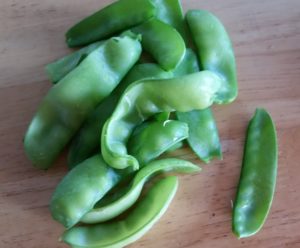 This is the first year that I am growing snow peas.  Originally, I wanted the Mammoth Snow Pea variety because it vines up to 6′ tall – which meets the criteria for vertical gardening.  At the time that I placed my order, this variety was not available.   I decided to order the Oregon Sugar Pod II Snow Pea from High Mowing Organic Seeds which was a great alternative.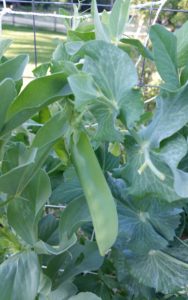 The Oregon Sugar Pod II has a crisp, sweet flavor and tastes great whether you eat it raw in a salad, steamed or sauteed.
This snow pea variety vines up to only 30 inches but produces a lot of green pods and has white flowers.
When sowing, this variety can be spaced two inches apart.
Many of the snow peas matured while I was on vacation.  When I returned and harvested them, some were curled which I thought was odd.  The seed packet even indicates that they will tend to curl if not harvested regularly.  I can attest to this! The good news is that they still taste crisp and sweet even when the get large,
Don't forget that there are other options for Snow Pea seeds but I would suggest that you consider this variety.