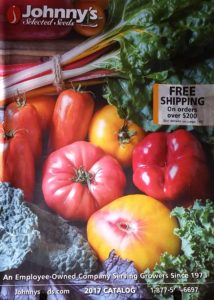 While I have previously purchased some seeds from Johnny's Selected Seeds, here are my thoughts about the vegetable seed choices in the 2017 catalog:
It includes lots of comparison pictures and charts. For instance, if you look at the daikon radishes there is a chart with comparing the lengths of the roots with pictures. In order to maximize space, growing vertical is important above and below ground!
With each type of plant there is a germination guide to show you the ideal soil temp for growing.
For the hot peppers, there is a heat scale coding system.
There are informative product descriptions with number of days to maturity and disease resistance codes.
There is information for each type of vegetable that shows how to grow, harvest and store and common diseases and insect pests.
For some types of vegetables (see cauliflower for an example) there is a planting chart that shows the time of year to transplant and to harvest.
When I look at the seed catalog for Johnny's Selected Seeds, I also think of lots of options for broccoli, cauliflower, eggplant, greens, peppers, tomatoes and winter squash.
If you are looking for a larger head of broccoli, Johnny's offers Diplomat that grows well in the north, Arcadia for cold tolerance and De Cicco for a large yield of side shoots. They offer mini broccoli which was developed by crossing European broccoli with Asian gailons. The minis are better for summer production. Johnny also offer options for broccoli raab, leaf broccoli and sprouting broccoli.
If you want color options for cauliflower, Johnny got you covered. There are white, green, purple and orange options. There are maturing dates that range from 50 to 80 days.
For eggplants, they have 5 Asian choices, 11 Italian types and 4 mini plants that are good for containers.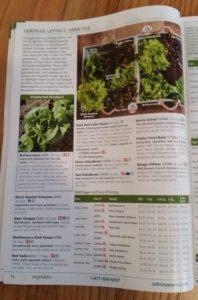 Johnny sells a wide variety of individual greens under the following types:   arugula, Asian greens, cress, mustard, pac choi, sorrel and specialty. They offer lots of lettuce varieties that are categorized under the following types: salanova, romaine, butterhead, bibb, iceberg, leaf, summer crisp, oakleaf and lollo.
Now for peppers, they offer some nice choices for sweet bell peppers, sweet specialty peppers, hot specialty peppers, hot southwestern peppers and greenhouse peppers. Under the sweet specialty pepper category, I started growing the Lunchbox Pepper Mix last year and loved them! They are small, sweet peppers that come in yellow, orange and red. I like them on salads, grilled and sautéed with my pierogis and kielbasa.
There are so many colorful options for tomatoes too! For the medium to large sized tomatoes, Johnny breaks down the tomato options by indeterminate and determinate and red and colored. Also, they offer the categories of paste, plum and roma, cherry, grape, specialty small fruited and greenhouse tomatoes.
As for winter squash, Johnny gives several varieties under the categories of acorn, buttercup, delicate/sweet dumpling, spaghetti, hubbard, butternut and kabocha. My favorite type of winter squash is spaghetti – in case you are curious!
Also, I recently did a post on veggie seeds from the Baker Creek Heirloom Seeds 2017 Catalog.