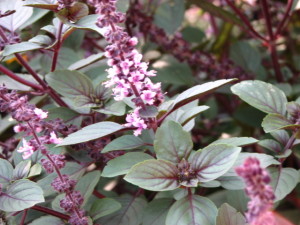 While I previously grew one plant of Genovese Basil in my herb garden, it always seemed to get a disease part way through the summer and wilt.   So then I started growing African Blue Basil (see above).  It tastes like the Genovese Basil but is very different in appearance.    The Genovese Basil has delicate green leaves that are large.  The African Blue Basil which I call "purple basil" has green leaves with purple veins.  When the plant flowers, it gets little pink flowers up against a purple stem.  It is very pretty and grows very fast (see below) .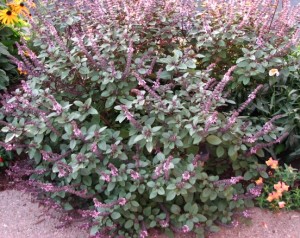 In my herb garden, I have all perennial herbs, small fruit and flowers.  The only two exceptions are the African Blue Basil and rosemary which are annuals where I live.
Since I am running out of room in my herb garden and there are so many types of basil, I decided to plant some by my tomatoes in the vegetable garden.  I am growing the Basil Custom Blend seeds from Botanical Interests.  It contains 7 different varieties ( Lemon, Anise, Cinnamon, Red Rubin, Dark Opal, Thai and Genovese Basils).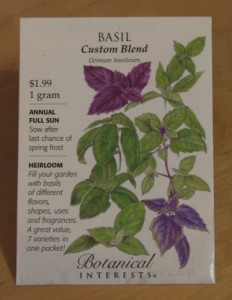 Lemon basil is a good choice to accompany fish, chicken, vegetables and fruit.  It has smaller green leaves and white flowers.  Anise basil complements fish, fruit and tomato dishes.  If you don't like licorice, you may not like this type.  It has green leaves and a hint of purple.  Cinnamon basil is good choice for fruit dishes.  It has green leaves but cinnamon reddish stems.  Red Rubin basil has very deep purple red leaves that are used for flavored vinegars and oils.  It is a great show stopper in landscaping as well.  Dark Opal basil is a very dark purple leaf with lilac flowers and a great addition to salads.   Thai basil has green leaves that grow on purplish stems and has reddish purple flowers.  This basil has a hint of licorice flavor.  Genovese basil is the traditional Italian basil.  See below for a picture of the different types.
Don't forget to pinch off the buds regularly to increase the growing time of the leaves.  I never get to pinch the buds off the African Blue Basil fast enough and it doesn't seem to affect its production.  Plus the bees and butterflies love it!  You may want to just grow a plant for the bees and one for you!