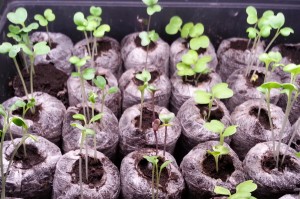 There are three main reasons to start some seeds indoors ahead of time in February and March which is to get a head start on 1)  heat loving plants,  2)  cool season plants (see above) and 3)  root plants that take FOREVER to grow.
HEAT LOVING PLANTS:   I start growing the hot and sweet pepper plants in early February  because they take longer to germinate and the tomatillo plants in mid February  and the tomato plants in early March.  I usually plant all these heat loving plants outdoors in late May in Pittsburgh.
COOL SEASON PLANTS:  I start sprouting the following indoors:  broccoli and cauliflower in late February and brussels sprouts, pac choi (bok  choy), kohlrabi and cabbage in early March. See the above picture for my  March 1st planting – from left to right are two types of pac choi, kohlrabi and two types of cabbage..  As you can see, these plants are quick at germinating and are ready to go into peat pots today. I usually plant these cool season veggies outdoors in late March and April under cover.
ROOT PLANTS:  The ones that need a head start include onions grown from seed.  I will plant these root veggies outdoors in late March or early April under cover.