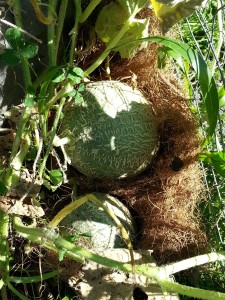 Well my favorite melons are watermelon and cantaloupe.  As for growing them, this was the first year I tried growing cantaloupe.  While I did ok growing the cantaloupe, I regret not planting more and trying watermelon.
Here's my cantaloupe story which is not just isolated to cantaloupes as it applies to all melon.
You should give your melon a head start by growing the seeds indoors under a grow light about a month before the last Spring Frost.  Transplant the seedlings outdoors after the ground warms up which should be around two weeks after the last frost – in my area that would be in early June.
This year I transplanted only two seedlings, but I think I will try three or four next year.   Since most melons take approximately 80 days to mature and since I live in an area with a shorter warm growing season, I can't do too much in the way of succession planting.   If I had more room, I could plant more every two weeks for about a month.
Here is my summary for sowing and growing melons:
1)  Mound the dirt and then sow the seeds or transplant the seedlings in the mound. You can put a few seeds in each mound and once they start growing, thin them out to two plants.
2)  Sow the seeds in the warm weather about two weeks after the last frost or indoors a month before the last Spring frost and then transplant them outdoors after it warms up.
3)  Melons enjoys water, a few hours of afternoon shade and some space to grow!
4)  If you give plant food, try a balanced and organic plant food.  I am trying Espoma Garden-tone this year.  Some folks give melons liquid fish fertilizer.
5)  If you put the plants under cover early in the season, don't forget to uncover them so the bees can pollinate the female flowers.    The male flower has a longer and slender stem.  The female flower grows on a shorter stem that becomes the squash.  You definitely want a few plants so there are enough male and female flowers for pollination.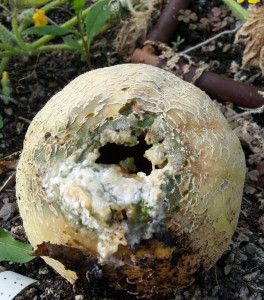 6)  When the melon starts to form, put some mulch or cocoa fiber under the fruit so it does not sit in any damp soil.   I use left over cocoa fiber from my planter boxes – recycle!
Stay tuned for information on harvesting cantaloupe soon.