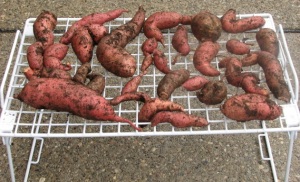 When you order sweet potatoes to plant, you typically will receive slips that you plant upon receipt.  We will talk about slip on another day.  Now it is time to figure out what you are going to order.  I typically order a mixed dozen (see below for my selections) from Steele Plant Company at www.sweetpotatoplant.com.  This year they have a total of 11 varieties of sweet potatoes available.  With Steele, you can select 3 varieties for the mixed dozen.
Typically sweet potatoes mature anywhere between 90 and 120 days.  If you live more North like me, it is recommended that you select varieties that mature in 100 days or less.
Other considerations are color and whether they grow vines or are vineless above ground.
Here is what I have found for reddish skin and orange flesh:  1) Georgia Jet matures in 90 to 100 days and is known for being a high yielder.  Burpee and Steele sell this one. 2) Beauregard matures in 100 days, 3)  Covington matures in 100 days.  Covington is supposed to be more uniform and sweeter than Beauregard.
There are two more varieties with orange flesh that mature in 100 days:   1)  Vardaman has golden skin.  2) Centennial has copper skin.
The only vineless one that I found is Bunch Portico which matures in 110 days.  It has copper skin and yellow and pink flesh.
You can find all of the varieties listed above from Steele or Burpee.
As for white or cream flesh, I found four varieties that might interest you. 1) White Yam matures in 110 days and has tan skin. 2) O'Henry matures between 90 and 100 days and has tan skin. 3)  Bonita matures in 95 days and has pink skin.  4) Murasaki matures in 120 days and has purple flesh. You can find these four varieties at Steele.  Also, you can purchase Murasaki from Burpee.
Here are some ideas for sweet potato collections:
I like the mixed dozen option from Steele because I select which ones I want and I only have to buy 12 which is plenty for me.  My choices for this year include:  1) Georgia Jet, 2) Beauregard and 3) Centennials
Burpee also has a sweet potato collection that includes 24 plants (12 each of Centennial and Georgia Jet).
Now Territorial Seed Company has an interesting sweet potato collection which includes O'Henry, Beauregard and Purple.  Purple has purple skin and flesh.  The only sweet potato that you can buy outside of their collection is Georgia Jet.
Hope this post helps you!