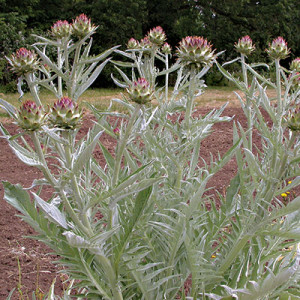 While we are on the topic of artichoke seeds, I thought we would chat about cardoon seeds.  They are kissing cousins!  While you eat the bud of an artichoke, you eat the stems of cardoon. The stems have a mild artichoke flavor.  If you live in an area where this plant can become a perennial, then you will need to know that it can become invasive.  Based on this picture from Territorial Seed Company, the cardoon plant is a good candidate for edible landscaping.  I think this plant would look great along side artichoke plants.  Now this is a good idea as long as you are not saving seeds because these plants can cross.
Not many seed companies sell cardoon seeds.   Here is what I found:
1)   The cardoon seeds sold by Territorial Seed Company take 60 days to mature and can be a perennial in zones 7 and warmer.   If grown as an annual this plant will fall short of 4 feet tall.  If it is a perennial it can get up to 8 feet tall.
2) Porto Spineless from Johnny's Selected Seeds takes 100 days to mature and can be a perennial in Zones 6-10.  This plant can get to 4 feet tall.  The stems need to be blanched.
To be honest, I am not sure that I have room for cardoons in my garden, but I am thinking about it.