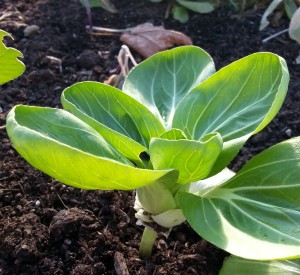 There are a few options for types of bok choy / pac choi.  First of all, this Asian green can vary by size, color, days to maturity and types of leaves.  Also, there are variations of the name for this Asian green.  You may see the first name of this Asian green as bok, pac or pak and the  second name may appear as choy or choi.
As for smaller or petite bok choy, I previously grew High Mowing Seed's Shanghai Green Pac Choy and Burpee's Asian Pak Choi seeds from the International Collection.  Keep in mind that you have to find Burpee's International Collection at a store because it is not available online.   Both of these grew well and tasted great.  They matured in 45 days and grew to about 5″ tall.   As for larger or taller bok choy, I've been growing White Stem Bok Choy from Botanical Interests which matures in 55 days and grows to 10 inches tall.  I found that this variety bolts a bit faster.    While I am out of the Shanghai Green seeds, I am still growing the other two types.
Here are some other options:
 Violet/Red Leaves – Violetta from Territorial Seed Company matures in 30 days for baby greens and 50 days for heads.  The underside of the leaves are green.  Rosie from Johnny's Selected Seed is a bright red pac choi that grows up to 12″.  I am growing Violetta too.
Quick to Mature and Small – Toy Choy/Choi from Botanical Interests and Burpee.  This one matures in 30 days and grows to 5″ – how cute!
Matures in 45 days and is Large – Joi Choi from Territorial Seed Company and Johnny's Selected Seeds grows to 11″.
Keep in mind that this Asian green is a cool season vegetable so it likes to mature in the Spring/ Early Summer and in the Fall.
Now you have to make a decision about what variety to grow.