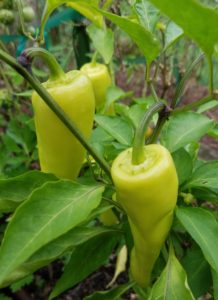 This is the first year in a while that I am growing Sweet Banana Peppers.  I forgot how much I liked them in Italian dishes.  I like to stuff them with hamburger meat and roast them or slice them up and add them to my spaghetti sauce.
When I set out to find some seeds this year, this oldie but goodie wasn't offered by some of the seed companies.   I found the seeds at Sandia Seed Comapny when I was placing my online order for hot pepper seeds.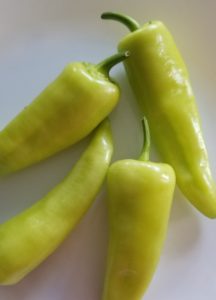 These sweet banana peppers take between 7 and 21 days to germinate.  I start these seeds indoors 3 months before the last spring frost and transplant them between 2 weeks and one month after the last spring frost.  While the seed packet recommends  30 inches for spacing in between plants, I go for 18 inches because I have too much going on in my garden!  The plant grow up to 2 feet tall.
Now lets talk about the sweet banana pepper. . . it will grow up to 6 inches long and it is ready to be harvested when it turns from pale green to light yellow.    So simple and so good!
When I have too many sweet banana peppers, I individually freeze the whole pepper on a cookie sheet and then store them in a freezer container or a FoodSaver bag in the freezer.
If you missed my post on one of my favorite jalapeno pepper, then just click on it!