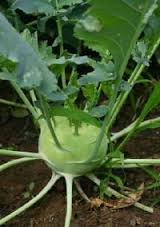 If you agree that brussels sprouts (see the Brussels Sprouts Are Misunderstood blog) look like they are from another planet, then you have to take a look at kohlrabi.   I took a minute to look up where this name came from – kohl is the German word for cabbage and raba is the Italian word for turnip.  While it is shaped more like a turnip, kohlrabi grows above ground like cabbage does.  It is a cool season veggie which means that it grows better in the Spring and Fall.  It comes in green, white and purple.  It is very easy to grow and is a member of the cabbage / brassica family.
I am growing purple & white Vienna seeds from Botanical Interests which take 55 days to mature.   I started my seeds on Mar. 1st in pellets and transplanted them to peat pots already.   While the seeds are not color coded, you can tell the difference once the seedlings start growing (see in the right picture above – the purple one is on the left and the white one is on the right).  I wanted to get three of each color so I put a couple seeds in each of the six pellets and then thinned them out to get the desired quantity of each.   I hope to get them in the ground under cover in March.  They need to be spaced about 12 inches apart in the ground.
Don't allow the stem (the part that looks like a small ball) to get bigger than 3 inches in diameter because it will get too tough! While the Vienna variety takes only 55 days to mature and is small in size, there is another interesting variety called Gigante which takes 130 days to mature and can weigh as much as 10 lbs. – it sounds like it is a bowling ball not a veggie!! I hear that this variety is more tender. Unfortunately, I can not confirm or deny as I have not grown this variety!
I like to shred Kohlrabi on my salad.  Also, it can be cooked or made into a slaw.  We will add some recipes to the blog and discuss how to harvest and store later on.
Don't forget to plant this veggie again for a fall harvest. This plant should go in the ground in July for a fall harvest.  Just like the broccoli and cauliflower (see the March 7th blog),   I tried a little experiment at the end of last year.  I direct sowed the kohlrabi seeds in the garden sometime in late August but there wasn't enough time to grow them before the 1st frost hit so I covered them with hoops and plastic.  I just peaked in the tunnels today and several of the kohlrabi plants are doing well (see below for one of the purple plants).