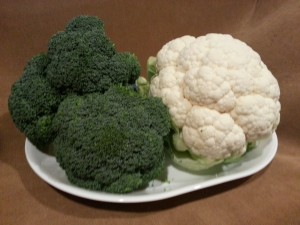 While some vegetables grow below ground and some vine, good old broccoli and cauliflower like to bloom!
I like to grow Broccoli Di Cicco.   After the main head is harvested, you will continue to get small to medium side heads.  The last few years I just grew a couple broccoli plants so I didn't get enough side shoots to share with my family – I ate most of the side shoots all by myself on my salads!  I am going to grow more broccoli plants this year and cauliflower in different varieties and colors.  While I usually don't have many issues with broccoli, cauliflower is soooo particular!  I am up for the challenge this year!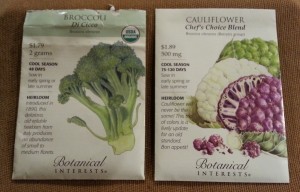 For the broccoli, I am using the heirloom seeds that I bought from Botanical Interests in 2013.  This year I  bought Chef's Choice Blend Cauliflower from Botanical Interests and Early Snowball X Cauliflower from Ferry Morse.  The broccoli and the Chef's Choice Blend germinated well but I decided to go and buy the Early Snowball X this week from Ferry Morse since the Chef's Choice Blend seeds (a blend of three  heirlooms – Green Macerata, Purple of Sicily & Snowball Y) take 75 to 120 days to mature and the early snowball takes only 55 days.
If you recall from the blog on the sweet peppers (see How Sweet It Is), Botanical Interests sometimes colors the seeds so you know which one you are planting.  This is not the case with the cauliflower blend -they are not color coded.   The problem is that I am not sure which seedlings will mature late – this is important because cauliflower heads do not like summer heat so you have to time the spring planting just right in the Spring.  This is why I got the fast maturing Early Snowball which I am going to start indoors today.
I already planted the seeds from Botanical Interests on Feb. 20th in pellets indoors and I already transplanted 6 of each (broccoli & cauliflower) into peat pots.  See my earlier blog called Starting Seeds Indoors.  Look how good they look (broccoli on the left and cauliflower on the right). . .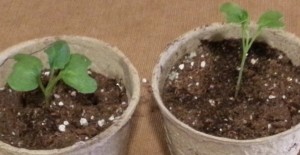 Broccoli and cauliflower should typically be started indoors about 6 weeks before the last Spring frost.  On average, the last frost date for Spring  in Pittsburgh is April 29th and the first frost date for Fall is October 17th.  These are estimates!!!  If you search on the internet you can easily find the estimated frost dates for your area.  I started my seeds indoors  earlier because I transplant them outside in early spring under cover – they definitely like cooler weather.  If you grow these plants under cover, you should have success with keeping the flea beetles away too!   While these plants should be spaced about 12 in. to 24 in. apart because they like to spread out, I usually just do 12 inches apart.   If you want, you could space them out further and grow leaf lettuce in between.
These vegetables also do well planting in late summer for a fall harvest.   I tried a little experiment at the end of last year.  I direct sowed the broccoli and cauliflower seeds in the garden sometime in mid August but there wasn't enough time to grow them before the 1st frost hit so I covered them with hoops and plastic.  I think I should have started them in July – they really need about 12 weeks before the fall frost.  I just peaked in the tunnels today and the broccoli plants don't look so good but the cauliflower might make it (see below).   I will keep you posted!