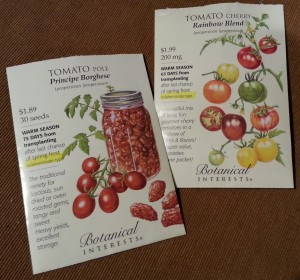 I am going for the exotic choices for tiny tomatoes this year – sun dried and gourmet cherry tomatoes.  Last year I grew only the red cherry tomatoes – way too traditional and boring!
First, I am growing Principe Borghese (an Italian delicacy) this year from Botanical Interests which is a variety for dried tomatoes.  The tomatoes are small plum shaped tomatoes and can be dried on the plant, in a dehydrator or in an oven.   They can reach 4 feet and 18 inches wide.  This plant that takes 75 days from transplanting to mature.  I think I am going to try drying them on the plant – it sounds easier!  I will give an update later on!
Second, I am growing a rainbow blend of cherry tomatoes from Botanical Interests.   This blend includes 7 different cherry tomato seeds that are color coded.  I am going to grow one of each.  Here's the type of tomatoes and the color of the seeds:   Sundrop (orange seed), Gold Nugget (yellow seed), Brown Cherry (blue seed), Sweetie (red seed), Green Grape (green seed), Super Snow White (no color), Bicolor Cherry (pink seed).   See the picture below.  These cherry tomatoes will be fun because they will stand out against the green leaves. They grow on vigorous vines that typically reach 6 feet in the home garden.  These plants take 65 days from transplanting to mature.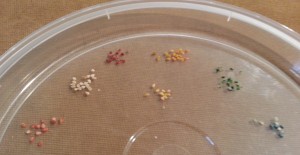 Don't forget kids love to pick and eat cherry tomatoes and so do a lot of adults!!  Often they get eaten on the way back to the house.  Don't forget to share!
In general, tomato plants should be started indoors 6 to 8 weeks before the last frost.  I already have my seedlings started.  These tiny tomato plants are all indeterminate.  For more info., see the blog titled "Tomatoes – Indeterminate or Not? Fruit or Vegetable?"