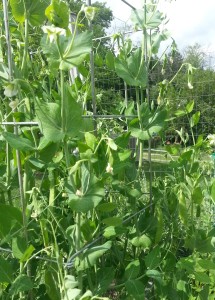 The topic for today is harvesting and storing sugar snaps.  Sugar snap peas should be harvested when the pod is just starting to plump or thicken but while the peas inside are still small.   Be careful when plucking the pods off the vine, either use scissors or hold the vine and pull the pod so you don't damage the plant. Don't worry if you don't harvest a few of the snap peas at their prime because you can still shell and eat the snap peas just like a regular pea.  However, in order to get more sugar snaps, you need to harvest them regularly. If you let too many pods go past their prime on the plant, then it will decide to shut down, stop producing and croak!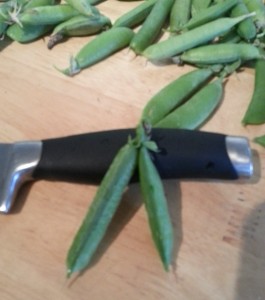 Take a look at the difference in the pods (see the pic to the right) and the pea sizes (see below) in comparing English peas and sugar snaps. Hopefully, this will help you with harvesting.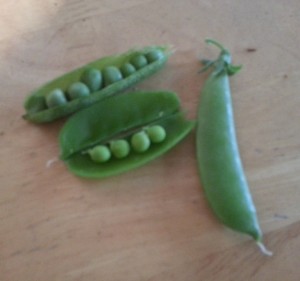 Now it is time to talk about storing them.  My preference last year was to cook and eat them.  Sometimes our preferences change – imagine that!  This year, I started to use them fresh on my salads by dicing them.  Wow this makes a nice addition to a fresh salad!  Try it – you will love it!
I have been researching on the internet for way to store my home grown sugar snaps for use later on.  Here is what I am going to try . . .
Rinse the sugar snaps
Remove the tips and any strings going down the sides
Dice them or leave them whole
Individually freeze on a cookie sheet – don't forget this step unless you want all of the sugar snaps stuck together in the freezer!
Freeze in a "freezer" container
Since I grow my vegetables organically and since I don't want to cook off some of the nutrients, I am going to skip the blanching process.  If you would prefer to blanch them, then I would blanch them for 2 minutes in boiling water and then submerge them in ice water for two minutes.  Drain them and then individually freeze them as in the steps above.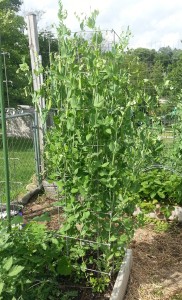 Don't forget that I am growing "Super Sugar Snaps" from Botanical Interests.  Since I love these yummy sugar snaps and since Bontanical Interests took them off their website, I am going to try and save some seeds for next year.  In order to do this, you will need to keep some pods on the vine and let them dry out.  Then I will store them in a paper seed packet.  Some folks store them in canning jars as well.   Whatever storing method you do for your seeds, please keep them in a cool part of your house over the winter.  For more seed ideas  see prior post by clicking on the link.  If you missed my post on how to sow and grow sugar snaps, then please check it out.