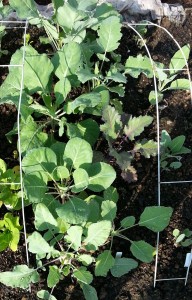 The two plants with bigger leaves on the left side of the photo but in the middle are my two brussels sprout plants that I started indoors from seeds.  We got a long way to go because this plant doesn't mature until the fall.    Stay tuned for more updates!
Above, below and directly to the right of the brussels sprout plants are kohlrabi plants which will be harvested over the next month.   Once the kohlrabi bulb gets bigger than a golf ball but much smaller than a baseball, it is ready to be picked.    See the close up of the 1st one that will be harvested in a week or two.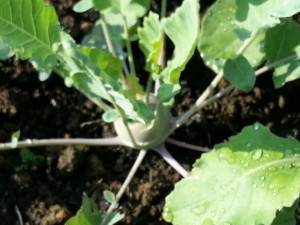 In the top picture, there are several plants to the far right that are the snowball cauliflower.  Just to refresh your memory – I have never had success with growing the cauliflower heads.   We'll see how it goes this year.  I can always try to grow them for a Fall harvest.  Cauliflower likes the cooler weather.
Please do a search in my blog to learn more about the varieties of these three vegetables that I am growing.