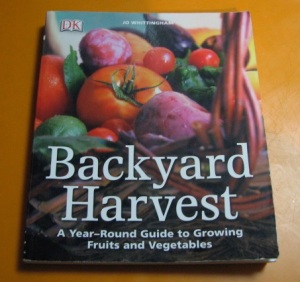 It is time to do some gardening book reviews. You may want to give a book to a gardening friend and don't know which one to get.  Since it is the gift giving time of the year, I will try to get through a few before the holidays.   The first book review is Backyard Harvest which is a year-round guide to growing fruits and vegetables by Jo Whittingham.  When I first started growing different types of vegetables, I used this book all of the time.  It gives you lots of ideas as to what you should be doing in your garden by month.  Each month is packed with pictures and information and includes the following categories:
Ready to Eat – This section tells you what you should be available to eat in a particular month.
What to Sow & What to Plant- These sections explain what to start growing during the month.
What to Do – This section gives you a to do list to keep your plants growing and healthy.
What to Harvest – This sections tells you when and how to harvest.
In the beginning, I used these sections so I didn't forget what I was doing and when.  It is so easy to be in middle of summer and totally forget to plant something.  In my case, I get busy and forget to take gardening pictures for my blog.   Since I've looked at this book a lot over quite a few years, I now take a look at the pictures for a quick refresher.
Another great tool is the Crop Planner in the back of the book starting on page 230 for Fruit and page 232 for Vegetables.  These tables give at-a-glance advice on when to sow, plant and harvest with bars coded for "under cover" and "outdoors" for each fruit and vegetable.  You can use this as a guide and adjust for where you live.  For instance, the planner shows you can sow lettuce seeds under cover from January to March and directly outdoors from April to September and harvest lettuce uncovered from April to October and under cover during November and December.  This time frame can be adjusted by the varieties that you plant and the types of cover you use.  Also, you should make adjustments depending on the weather conditions in your area.
Also, if you like to look at everything on a particular plant such as tomatoes, go to the index and it will reference all the pages you will find the pertinent information.
While the above sections are my favorite parts of the book, there are also discussions on vegetable and fruit varieties, pruning, canning and recipes.
If you really want to see something gross, take a look at the Common Pests, Common Diseases and Common Nutrient Deficiencies sections in the back of the book.  Actually don't it  since you may never eat veggies again!