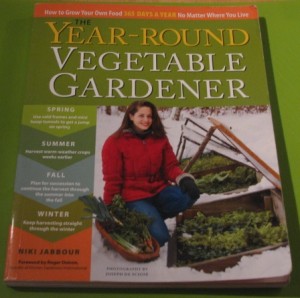 The Year-Round Vegetable Gardener by Nikki Jabbour is a very helpful book for ideas on how to grow vegetables and herbs all the time.  There are two main parts:
1)  Stretching the Growing Seasons is broken down into four chapters.  These chapters deal with the growing seasons, intensive planting,  cold frames and designing gardens.  The growing seasons addressed include cool, warm and cold seasons. Intensive planting lets you know how to build good soil and how to do succession planting  and interplanting.  Also, Ms. Jabbour describes her favorite early season, mid-season and late season varieties for staggered harvests and favorite combinations for interplanting.  While I use the term cold frame a bit loosely, this author breaks it down a bit further.  Designing gardens give you ideas on design, crop rotation and growing vertical.
2)  Growing the Right Crops addresses vegetables and herbs.
The vegetable part of the book has a section for each type of vegetable from arugula to winter squash.  This part discusses the types of vegetables there are, when to plant them and how to grow and harvest each type.  Also, included is Niki's Picks which details her favorite varieties to grow.  My favorite is the Planting Calendar which tells you how early you can start the seeds indoors and outdoors under a cold frame or without one and is broken down before and after the last Spring Frost and the first Fall Frost.
The herb part of the book addresses herbs from basil to thyme.    While most of the herbs grow well in the cool and warm seasons, this part explains how you can enjoy your favorite herbs in the cold season by growing under a cold frame, putting the plants on your windowsill or preserving your harvests.
You know I love charts and there are two interesting ones in this book:  Succession Planting and Interplanting.  The Succession Planting Chart describes the average days to harvest, whether each vegetable typically gives a single harvest, a repeated harvest or both, describes the planting season, the suggested times between plantings and types of succession planting meaning whether you should keep on seeding during the season or grow different varieties with different maturity dates.  While I often use the Succession Planting Chart as reference tool, I don't use the Interplanting Chart that much.  However, you may find this chart helpful because it lets you know the maturity rate, the feeder type, feeding depth, summer light requirements, plant height and plant shape.
Overall, this book has inspired me to grow food in the fall and winter.  I am still perfecting what I grow and when.  My theory is that if Ms. Jabbour can grow year-round in Nova Soctia, I can master it in Pittsburgh, PA.  Stay tuned for some of my winter garden updates.