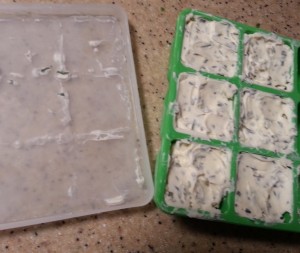 While we talked about herb scissors the other day, I have another great gadget .  .  . herb cube trays.  Ball makes them and calls them Frozen Herb Starters.  They look like ice cube trays and are made from flexible, BPA-free silicone according to their website.
Two cube trays plus plastic lids come in a package.  What a great way to preserve your herbs and garlic.  It is very easy to remove the cubes and I like easy.
As for the herb cubes, here are the steps you should take:
1) clean your herbs,
2) some herbs may need to be blanched first so they retain their color,
3) chop or cut the herbs into small pieces or puree them if you are using oil as the medium,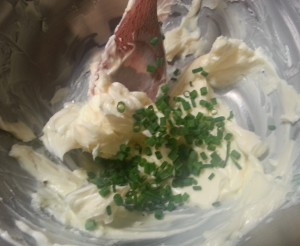 4) if you are making herb or garlic butter, mix the herbs with softened butter in a bowl and insert the flavored butter in the cubes – or-  put the herb pieces (up to 2 tablespoons) in each cube and pour 1 1/2 tablespoons of a liquid medium such as oil, water or broth over each herb cube,
6) put the plastic lid on the cube tray and put it in the freezer,
7) after the cubes are frozen, I line them up flat in a freezer bag or container so they don't take too much room in the freezer.
The herb cubes can be stores for many months.