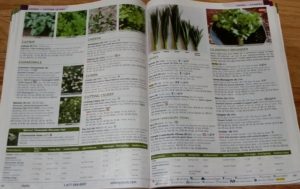 There is a very nice chart in the herb section of the Johnny's Selected Seeds 2017 Catalog that identifies the number of days to germinate, the time of year to sow, the seeding method, light preference, plant height, plant spacing and zone hardiness.
Johnny offers 5 types of cilantro/ coriander. While most folks know that cilantro is a popular Mexican her, there are other herb choices. Johnny has quite a few options called Epazote which has a minty flavor and Papalo and Pipicha which have a cilantro and arugula flavor. Then there is Cumin which is commonly used for Mexican and Indian dishes.
Moving on to Asian herbs, Johnny offers Saltwort and Shiso. For Shiso options they offer a red or a green leafed plant and the variety called Britton has leaves that are green on top and red underneath. Also, Johnny offers 4 Asian or Thai types of basil: Kapoor (spicy with hints of chocolate and coffee), Sweet Thai (spicy, anise-clove flavor), Cardinal (cinnamon-clove and anise flavor) and Cinnamon.
Johnny also offers some compact basil options such as Pluto and Spicy Bush that are great for containers.
Now for some interesting flavors offered by Johnny. Salad Burnet and Borage add a cucumber flavor to salads, Par-Cel offers a celery flavor, Summer Savory provides a pepper flavor and Stevia offers a sweet flavor. If you want a citrus flavor, check out Orange Thyme and Lemon Balm. . . Don't forget that Chives can have an onion or a garlic flavor depending on which type you grow. If you want to grow caraway seeds for eating then check out Arterner.
If you missed my post on vegetable seed options from Johnny's, just click on the link.