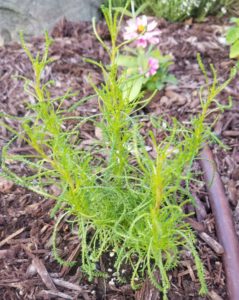 The leaves of the Olive Herb plant actually taste like olives.   The plant is bright green so it is a nice accent in the yard.  You can chop the needle leaves and sprinkle them on a salad, use them in a marinade  or in a cooked dish such as pasta.
It really grows well and is very low maintenance.  The Olive Herb plant grows up to 1 1/2 feet.
While this plant is a perennial, I pulled it by mistake last year.  I will have to see if it lasts through our upcoming winter.
I have not seen seeds for the Olive Herb so I usually buy it as a plant.  This year I found it at Traxx Farm in Finleyville, PA.
If you want to grow chives from seed, check out the link.  I love this herb!