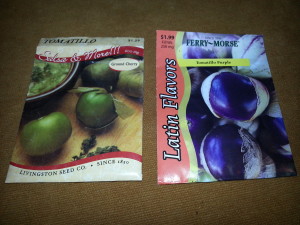 So back to the Mexican theme. . .While we love to grow hot peppers to make red salsa and other Mexican dishes, we also love salsa verde! If you are not up to speed with Spanish, verde means green.  If you never tried Salsa Verde, you gotta try it.   The only store bought brand I would even consider buying in Pittsburgh is Goya Medium Salsa Verde.   Once you try it, you'll be growing your own tomatillos and making your own salsa.  
I am trying to grow green and purple tomatillos which I started in pellets under a grow light on February 20th.  I am trying one last time to grow the green tomatillos seeds that I bought in 2012 from Livingston Seed Co.  I'll be honest, I am having a heck of a time getting them to grow now as I did back in 2012.   They are supposed to germinate between 10 and 15 days and only 1 of 6 is growing for me.  YIKES!  Last year, I had to go around and try to find a starter plant which was kind of pricey because it was big and I had to have two of them.   My experience with tomatillos is that once the plant is started it grows really well in Pittsburgh.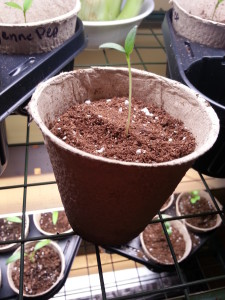 It is a different story with the purple tomatillo seeds that I bought from Ferry-Morse this year- they germinated in less than a week and I already transplanted six of them into peat pots.   Now here is my dilemma – can I still call it salsa verde or do I call it salsa púrpura (which is Spanish for purple)?   It is my understanding that the purple tomatillos are sweeter, yet tart!  The purple tomatillo will start out green and ripen to purple.  The husks are green with purple veins.
I usually plant my tomatillos outside in late May and provide supports as they grow between 3 and 4 feet tall.  I stake the main stem and then support the branches with a "tomato" cage.   Without proper support, the plant will grow toward the ground.  Tomatillos plants should be spaced about 2 feet apart.   We will talk more about them when we are planting them outdoors and harvesting them.
Is it a fruit or vegetable? Technically, it is a fruit – I think!   I will put under the categories of fruits and vegetables so you can find the blog.