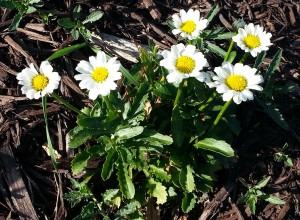 Last year I bought some Darling Daisy plants which are very cute.  Since I want to line my front flower bed with them, I decided to try and grow some from seed this year.  It is way more economical to grow them from seed since a packet of seeds can be just a couple dollars.
Here are my requirements for daisies:  I want a perennial that is under 2 feet high and blooms from spring or early summer through fall.   I found a seed packet that fits the bill with the Silver Princess Shasta Daisy from Burpee.  It is a perennial in zones 5-9 that grows to 12″ high and blooms from early summer to fall.  While this plant is similar to the Darling Daisy, the flowers will be larger.  Both have white petals and yellow middles.  The Silver Princess blooms the first season.
Alaska Shasta Daisy blooms for 3 months from summer to fall.  This one grows around 3 feet tall and you can find the seeds at Botanical Interests and Burpee.
Painted Daisy from Burpee has white, pink, rose, red or crimson petals.  One packet has several color options! Painted Daisy is a perennial that grows to 2′ high and the flowers will bloom in midsummer in the second season.
Gloriosa Double Gold from Burpee is a perennial down to zone 4.  It looks like a frilly Black Eyed Susan and grows to 3′ high.
Here are some annuals to choose from:
Yellow Button Daisy from Botanical Interests has yellow petals and a yellow middle.  This plant is very cute growing to just 12″ high.  It blooms from spring to fall.
Blue Eyed Daisy from Burpee has white, pink, rose or purple petals with dark blue middles.  This plant will grow to 18″.
Out the seed companies that I usually purchase from, only two sell daisies.  I was a bit surprised!