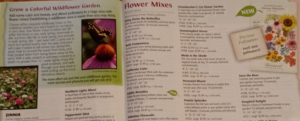 I think Botanical Interests put together some nice flower mixes.  If you like the wildflower look, then you can pick a pack that agrees with your needs.  If you like a more structured look with your flowers and other plants, you might want to take a look at their website because they list the flowers in the pack.   For instance, you might want some flowers of a certain height or have annuals, biennials or perennials.  Botanical Interests also sells many of the flowers individually.
Here is a recap of the flower mixes that attract butterflies, bees and birds:
Bring Home the Butterflies –  30% of this mix contains Mexican Lupine and the remaining flowers and herbs include Mexican Sunflower, Calendula, Cosmos, Balsam plus Borage, Bachelor's Button, Blazing Star, Purple Coneflower, Parsley, Pincushion Flower, Butterfly Milkweed, Sweet Sultan, Lance-leaved Coreopsis, Crimson Clover, Sweet William, China Aster, Dill,  Black-Eyed Susan,  Tall Verbena, Rocky Mountain Bee Plant, Lemon Mint, Sneezeweed, Snapdragon, Bishop's Flower and Sweet Alyssum.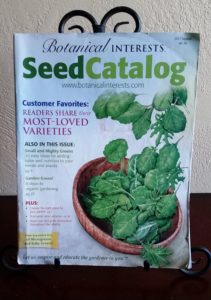 Hummingbird Haven – 60% of this mix contains Nasturtium and the remaining flowers include Lupine, Dark Colors Hollyhock, Zinnia, Butterfly Weed, Texas Sage, Annual Phlox, Rocket Larkspur, Spider Flower, Godetia, Bee Balm, Red-Hot Poker, Standing Cypress, Shooting Star Columbine, Tubular Bells Penstemon, Foxglove, Flowering Tobacco, Coral Bells.
Precious Pollinators – This mix contains Sunflower (20.5%), Borage (18.5%), Zinnia (11%), Cosmos (10%) and the remaining flowers and herbs include Red Clover, Milkweed, Purple Coneflower, Marigold, Lance-leaved Coreopsis, Scarlet Sage, Phacelia, Dill, Lemon Bee Balm and Smooth Aster
Save the Bees –  This mix contains 16% Borage (16%), 13% each Lemon Queen Sunflower (13%), Coriander/Cilantro (13%) and the remaining flowers and herbs include Siberian Wallflower, Dill, Lance Leaf Coreopsis, California Poppy, Annual Gaillardia, Lilliput Zinnia, Sweet Basil, Cosmos, Purple Prairie Clover, Globe Gilia, Catnip, Lemon Mint, Black-Eyed Susan, Goldenrod, Lavender Hyssop and Bergamot.
Songbird Delight – This mix contains Wheat, Hybrid Pearl Millet,  Black Oil Sunflower, Safflower, Bachelor Button – Polka Dot Mix, Purple Coneflower, Cosmos, African 'Crackerjack' Marigold, Mexican Hat, Love-Lies-Bleeding, Black-Eyed Susan,  and Rigid Goldenrod.
Some of my favorite flowers that attract butterflies, bees and birds include allysum, coneflowers, cosmos, milkweed, nasturtium, snapdragons and zinnias.
While there are other flower mixes, I wanted to point out two for garden problem areas:
Made in the Shade – The flower choices include Chinese Forget-Me-Not, Balsam 'Tom Thumb' mix, Annual Candytuft,  Baby Blue Eyes, English Wallflower, Annual Baby's Breath. Virginia Stock, Shirley Poppy mix, Dwarf Columbine mix, Coleus "Rainbow" mix, Alpine Forget-Me-Not, Dwarf Spurred Snapdragon 'Fairy Bouquet' mix, Johnny-Jump-Up 'Helen Mount', Sweet William, Tussock Bellflower.
Water Wise Mix – This mix includes Arroyo Lupine, Cupid Pink Sweet Pea, Sulphur Cosmos, Blanketflower, Gazania, Dwarf Yellow Cal Poppy, Orange California Poppy, African Daisy, California Bluebell, White Evening Primrose, Bird's Eyes, Blue Flax, Dwarf Plains Coreopsis, Desert Marigold, Mexican Hat,  Moss Verbena, Rocky Mountain Blue Penstemon, Mountain Phlox, Pink Evening Primrose and Tidytips.
Don't forget to check out my prior posts on vegetables and herbs choices from Botanical Interests.