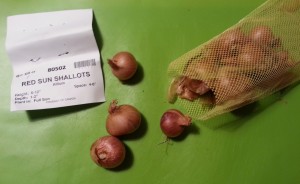 For the last several years, I've been planting my garlic cloves and onion sets in the Fall.  This is the first year that I am trying shallots.  In Pittsburgh, it is close to impossible to find shallots and different types of onions in the Fall.  Last year I only found yellow onion sets. As a result, I did an internet search.   I was trying to get the biggest bang for my buck so I could buy shallot bulbs and red, white and yellow onion sets all from the same place with one shipping charge.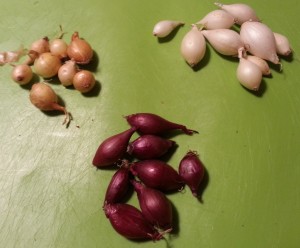 Here is one option – Spring Hill Nursery.   I found out later that Michigan Bulb Co. has the same options.  While they only had one type of shallot called red sun shallots, they did have all three onions that I wanted.  You can always grow them from seeds but that is a another topic.
For each type of onion,  you can get 60 sets for $6.99 and shallots are 10 for $6.99.  You get less shallot bulbs for $6.99 because they are gourmet and they multiply!  You will see what I mean when I harvest them next summer.
Another website that I just found out about is Dixondale Farms.  They have a lot of choices for onions for some Spring planting.
We will be chatting about planting the bulbs soon!
In case you missed my post on garlic bulb choices, you can always check it out now.