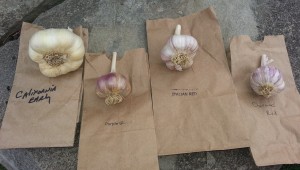 I went to the Tomato and Garlic Festival which is also call Red Ripe and Roasted at Phipps Conservatory in Pittsburgh, PA today.  One of the reasons that I like to attend this event is to get my garlic bulbs to plant from Enon Valley Garlic.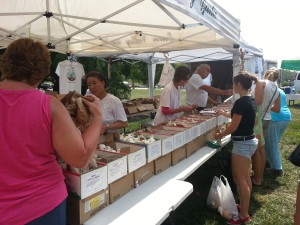 The festival went  from 11 AM to 4 PM today (August 30th).  Phipps is located in Pittsburgh near my alma mater, the University of Pittsburgh – go Pitt!
See www.phipps.conservatory.org for more information.  If you didn't go this year, then give it a try next year.
Here is what I bought:  California Early, Purple Glazer, Italian Red and Chesnock Red garlic bulbs.
So lets do a refresher on the two types of garlic – softneck and hardneck.  1) Softnecks do not produce a flower, do well in warmer climates and store well when harvested.  2)  Hardnecks produce a flower stalk, like cooler climates, but don't store as long as the softnecks.
Softneck:
Carlifornia Early – It has 8 to 10 cloves in each bulb and stores 5 to 7 months. It is very large and has a mild flavor. I hear it is "buttery smooth when roasted".
Hardneck:
Purple Glazer – It has 5 to 6 cloves and stores for 5 months. It has purple stripes on white skin and has a mild flavor. We grew this one last year and love it!. It is known to be good for fresh pesto, pickling and baking.
Italian Red – It has 8 to 9 cloves and stores 5 to 6 months. Its claim to fame is that it has a "rich and strong flavor but not overly hot or spicy".  It produces well in cold areas such as Pittsburgh, PA. It has a purple and brown stripes.
Chesnock Red – It has 8 to 12 cloves and stores 7 to 9 months. This one is good for baking. It has purple striped skin. It is the hottest one that I picked. Take a look at the thermometer in the picture.
While it is easy to tell the origin of the California Early and the Italy Red, Purple Glazer is from the Georgian Republic and Chesnock Red is from Georgia.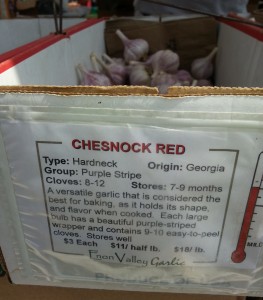 One nice thing when you attend the festival is that Enon Valley has the garlic sorted by heat level.  One bad thing is that they don't include this info on their webpage.   When you purchase the garlic, they put it in a little brown lunch bag and have the name stamped on it so you can keep track.
When I plant the garlic cloves in October, I will separate the cloves and let you peak inside.