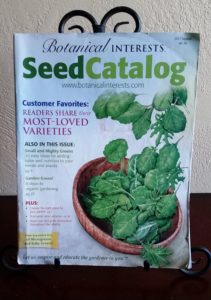 Botanical Interests is my "go to" vegetable seed catalog. I love the seed blends/mixes that they offer because I can by less seed packets and increase my options with more varieties!
Oops – I forgot to take a picture of the catalog before I started pouring through it on my plane ride to New Orleans!
My favorite seeds are the color coded seed mixes:
Red and Yellow Cayenne Pepper Blend
Red and Yellow Sweet Cherry Pepper Blend
Artisan Bumble Bee Tomato Blend
Artisan Tiger Stripes Tomato Blends
Rainbow Cherry Tomato Blend –
Red and Yellow Pear Tomato Blend
Red and Yellow Jelly Bean Grape Tomato Blend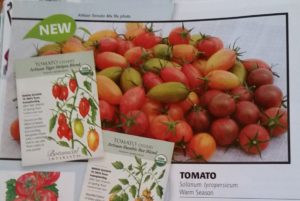 I still grow the Cayenne Pepper Blend and the Rainbow Cherry Tomato Blend.  I am thinking about adding on the Artisan Bumble Bee Tomato Blend!
There are other seed blends that are not color coded:
Gourmet Beet Blend
Calliope and Carnival Carrot Blends
Chef's Choice Cauliflower Blend
Purple and White Kohlrabi
Brightest Brilliant Rainbow Quinoa Blend
Easter Egg Radish Blend
Scallop/ Patty Pan Zuccini Blend
Bight Lights, Celebration and Five Color Silverbeet Swiss Chard Blends
Premier Kale Blend
Just when you thought there was no more choices  . . . Botanical also offers the following mixes for greens:
Lettuce:
Oak Leaf Blend (red and green)
Salad Bowl Blend
Asian Salad Green
Chef's Gourmet Spicy Mix
Chef's Medley
Farmer's Market Blend
Gourmet Baby Greens
Sassy Salad and
Valentine Mix – my personal favorite!
Sprouting Seeds:
Salad Mix

Sandwich Mix

Bean Mix
Baby Greens:
Swiss Chard Blend

Market Day Mesclun Lettuce Blend

Must Have Mustards

Smoothie Mix

Snappy Fresh Mesclun

Super Foods Blend
Microgreens:
Be Mellow

Ciao Bella Basil

Italian Amaro

Mild Mix

Savory Mix

Spicy Mix

Umami Asian Blend
Don't forget to check out my posts on the vegetable seed options from Johnny's and Baker Creek.