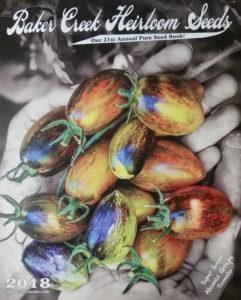 While the Baker Creek Heirloom Seeds catalog has some beautiful photographs, it also offers quite a few unique options for the adventurous gardener.  Here is what I like about Baker Creek:
They carry around 1,800 varieties and claim to have the largest selection of heirloom varieties.
These rare seeds come from around the world.
The owners supply free seeds to many poor countries – how cool is that!
Baker Creek pledges to provide GMO free seeds.
Baker Creek offers some live plants including various fruits and sweet potato plants.
Their website has recipes and growing guides.
As for seeds, they offer vegetable, fruit, herb and flower seeds.  I love the Cherokee Trail of Tears pole bean which produces lots of black beans and Magnolia Blossom Tendril Pea which produces peas (of course) and tons of tendrils that you can use in salads.  Last year I also purchased the Extra Precoce A Grano Violetta fava beans and Kalibos cabbage seeds.  I totally forgot to plant these two purplish plants last year, but I will this year!.
Baker Creek offers shipping at a flat rate of $3.50.
If you missed my post on High Mowing Seeds, just check it out!