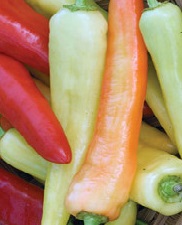 While some peppers don't have heat, they can be just as important to your culinary delight.   I have been growing sweet banana pepper plants from Burpee seeds (see above) for years.  This is the first year that I am branching out in the sweet pepper category.  
I am going to grow sweet cherry peppers which are small bite-sized peppers that are ready to go on a skewer to be grilled or sliced for a salad.  This plant is expected to grow between 20 and 24 inches tall and 12 inches wide.  I think this pepper plant is a candidate to grow in a container as well.    My plan is to plant one of them in a container and the rest in the garden.  It's an experiment!  I got the sweet cherry pepper seeds from Botanical Interests.  There are red and yellow pepper plants included in the packet and they are colored coded so you know which plant you are sowing.  The yellow pepper seeds are left natural color and the red pepper seeds are colored red.
This part is very similar as the prior post on hot peppers:  This year I am using the sweet banana seeds that I purchased in 2013 from Burpee since pepper seeds usually last two years.   I planted 6 seeds of each of the sweet banana and cherry peppers on February 4th – one seed per peat pellet.    These peppers usually germinate between 10 and 21 days.  I usually keep the grow light on them for 12 to 16 hours a day.   Depending on how much room I have in the garden, I may only plant 3 or 4 of each type.   I usually plant the pepper plants sometime after May 15th.