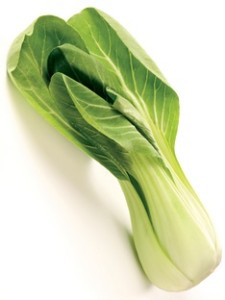 Its very confusing what this Asian veggie should be called.   I have seen Bok Choy,  Pac Choi or a combination such as Pac Choy used.   While it is in the cabbage family, it is a very mild tasting veggie – you got to try it!
Last year I grew Shanghai Green Pac Choy from High Mowing Organic Seeds.  It has white stems and green leaves.  It grows to 12 inches and takes 45 days to mature.  You can grow it as "rooted greens" (see the picture above) by spacing the seedlings about 4 inches apart.   Last year when I harvested it, I took out the whole plant.   I have heard that if you leave the roots and the base in the ground, it will regrow.  This means that you will need a very sharp knife to remove it without disturbing the roots.  Another option:   If you pull the whole pac choi or purchase it from a grocery store, you can cut the base and put it in water and it will regrow from the middle. After it grows about 4 inches, then you can plant it in the ground.  I am going to try this and will report back – It's experiment time!
Also, pac choi can be grown for baby leaves which would be great for salads.  For baby leaves,  direct sow the seeds outdoors  close together  in 2 to 4 inch bands and harvest the leaves when they are  3 inches tall before the stem matures .  You will need to plant every three weeks for a continual harvest.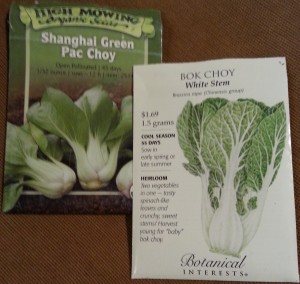 I am trying another variety called White Stem this year from Botanical Interests.   It looks like it is a taller variety but the packet does not say how tall it will get.  I wanted a taller variety so we can grill it.  I will let you know how it goes.
Next year I am going to try the Red Choi which I found on the Johnny Seeds website.    The leave are a reddish purple – it looks great!
The seed packets suggest that I just direct sow pac choi  but I already started it indoors and so far so good.  I will be planting it outdoors under cover soon!   Don't forget that this is a cool season plant so you can plant it in early spring  and then in late summer for a fall harvest.